Are you new to the Caxton Card? Or is this the first time you've dusted it off since the start of the pandemic? Perhaps you used to use it years ago and you've just reopened your account. Whatever the case is, we have the ultimate guide on how to use your pre-paid travel card to get the most out of your money, with lower fees and better rates. <br> <br>
---
<br>
Activation of new cards
Once you've gone through the application process and loaded at least £10 onto your account, you will be sent your brand new Caxton currency card via Royal Mail. To activate your card once it arrives, you will need to log into your account either online or in the app and select 'Activate Card'. Once activated, your first ever transaction on your Caxton currency card needs to be a chip & pin transaction at a Point of Sale (PoS) to enable ATM withdrawals and contactless. <br> <br>
---
<br>
Expired Cards
If you've had a Caxton card for a while, you'll need to check that it is still valid before you go on holiday. It is crucial that you do this at least three weeks in advance, to allow your new card time to safely arrive before you go. <br> <br> If you card is expired, head over to our website and login, check that your personal details like your address are up-to-date, and click 'Renew Card' to get your renewed card ordered. It will come in a discreet white envelope so keep an eye out for it in the post! <br> <br>
---
<br>
The App
You can login to your account via our website, but did you know that there is also an app you can download to have access straight from your phone and tablet? The app is available on the App Store and Google Play Store. <br> <br>
<br> <br>
---
<br>
Check Your Pin
Have you looked to see what your pin is before you jet off? You can find your pin by logging into your account online or in the app. If you want to change your pin you can do it at any UK ATM before you go. <br> <br> It's crucial you know your pin as you will have to make your first transaction on a new card a chip & pin, and you will also need it any time you wish to withdraw money at an ATM. <br> <br>
---
<br>
Blocked or Activated?
This is really important to check, especially if you are an existing customer who is using your card again for the first time in a while. On our website or app, you can view the status of your card and (un)block it. It's important to check that your card is unblocked and ready to go before you go on holiday to make sure that you have a stress-free experience. <br> <br>
---
<br>
Your First Transaction
As mentioned earlier, your first ever transaction on your Caxton currency card must be a chip & pin transaction at a Point of Sale (PoS) such as a shop or restaurant - not an ATM. This means that the very first purchase you make on your Caxton currency card needs to have your card inserted into the card machine and your pin entered. <br> <br> Once you've completed your first transaction like this, the contactless and ATM features will be activated and available to use. <br> <br>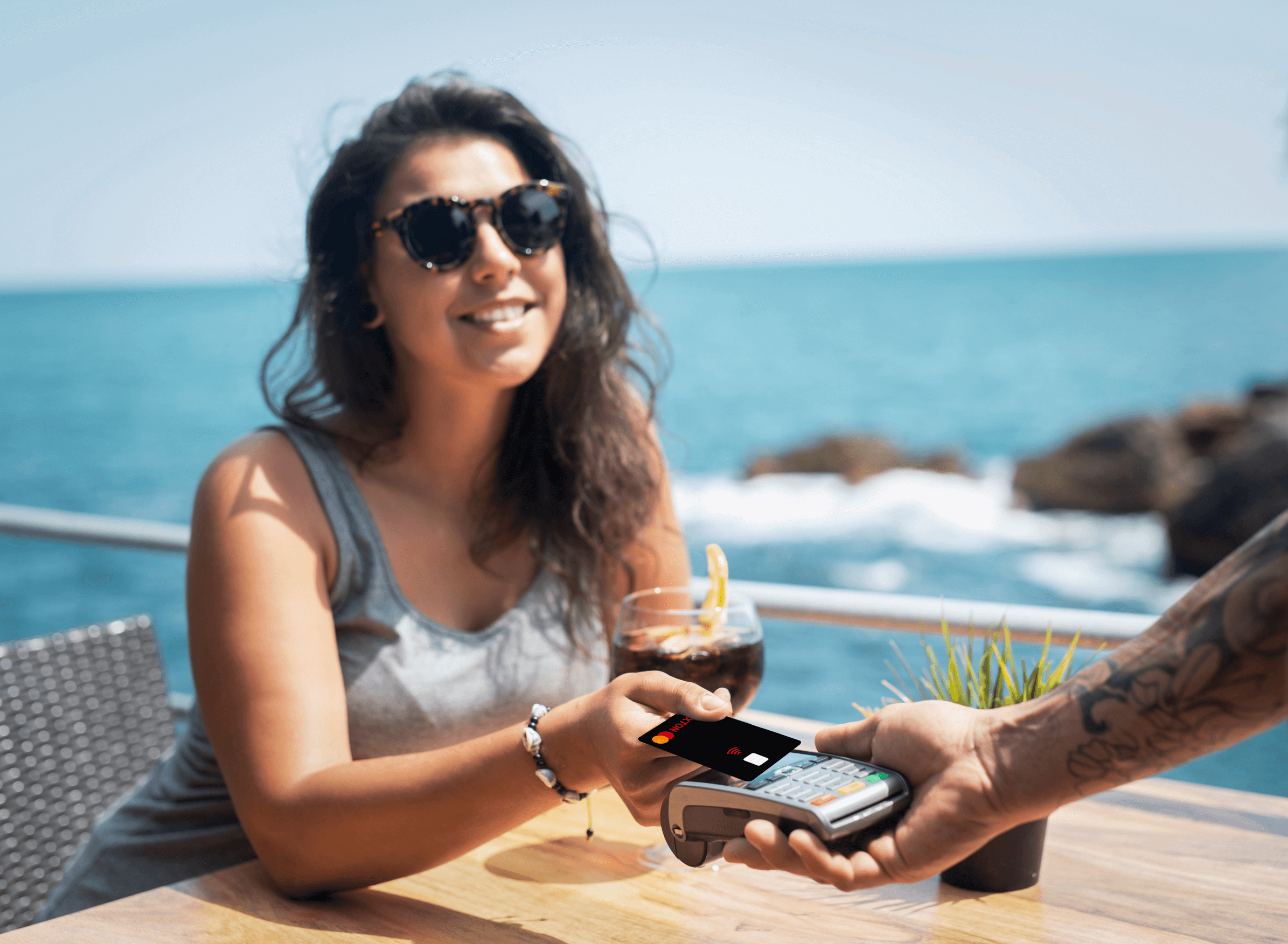 <br> <br>
---
<br>
Spending Outside of the 15 Currencies
Visiting a country that we don't currently have the currency for? Not a problem! Load up your Caxton currency card with British Pounds Sterling (GBP) and you can spend away still with the same great protection that Caxton offer. <br> <br> You'll automatically get the standard Mastercard settlement rate minus 2.49%, at the time of your transaction. You do not need to do anything else, the conversion will take place when you make a transaction. <br> <br> If you load any currency other than GBP (USD for example), your transactions will automatically be converted back into GBP before being converted again into the local currency, which is not as good value as one direct conversion from GBP. <br> <br>
---
<br>
Dynamic Currency Conversion (DCC)
We have a whole blog about DCC here that goes in-depth about what it is and how to avoid it, but the main advice is to always pay in the local currency if you have it on your card (e.g. pay in Euros rather than Sterling if you're in Italy). <br> <br>
---
<br>
Insufficient Funds
If you have insufficient funds in one currency and you make a purchase, your card will take the next available currency and convert it to complete the transaction. It's important to make sure that you have enough of the required currency ready to spend to avoid the costs of switching balances! <br> <br> If you don't have the required currency on your account, then funds will be debited from your account in the following order: <br>
GBP
EUR
USD
AUD
CAD
NZD
HKD
CHF
JPY
DKK
ZAR
PLN
SEK
NOK
HUF <br> <br>
---
<br>
ATM Withdrawals
Caxton doesn't charge a fee for overseas ATM withdrawals. Be aware that some overseas ATM owners may charge you a fee. This is not Caxton charging you, this is the ATM owner. We'd always recommend finding an ATM that offers free withdrawals to make the most out of your holiday cash and make sure that you withdraw in the local currency to avoid paying conversion fees. <br> <br> There is also a £300 withdrawal limit in place every day. This can be spread over 2 withdrawals within a 24 hour period. <br> <br>
---
<br>
Virtual Wallet
You've been asking for it, and we listened. You can now add your Caxton Card to Google Wallet™ and tap to pay everywhere contactless payments and Google Pay™ is accepted. <br> <br>
---
<br>
Ready to go?
Are you ready to jet off and enjoy your holiday? Head over to our website or onto our app and top up your card today! Not using Caxton yet? Sign up here to get yourself travelling smarter and reduce the stress from your next holiday.