Two things in life are certain – death and taxes – and both can be onerous charges. With Highgate Cemetery now charging over £18,000 a plot, it's not just the cost of living that's reached ridiculously high levels in London – the cost of dying has, too.
But London's not the worst place to die, in financial terms, anyway. In Santa Barbara, California, a plot with a view of the Pacific can cost as much as $83,000. And if you want a family mausoleum at Forest Lawn, in the Hollywood Hills, you'll be shelling out up to $825,000.
Even once you've paid for a plot, there's more to come, and some countries are notorious for their massive spending on funeral rites. In Japan, for instance, the average funeral costs around £15,000, including gifts, flowers, and religious services. Perhaps surprisingly given the relatively low income per capita, China also scores highly on funeral costs, at nearly £5,000, with lavish funerals for the urban elite costing double or triple that.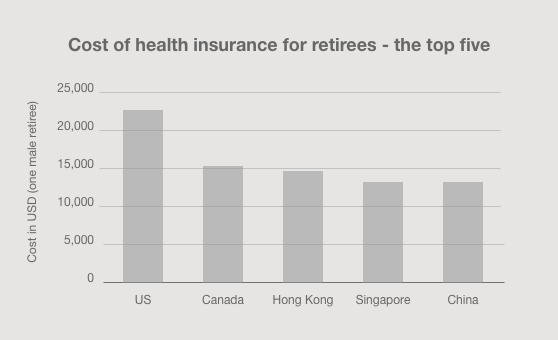 If you want to slip away without costing your heirs a bundle, perhaps you ought to head for Moscow, where cemeteries are subsidised by the state (and some of them well worth a visit while you're alive, to see the remarkably carved graves of astronauts, clowns, and ballerinas). The average funeral there, apparently, costs only a bit more than £600. Or Mexico, where £500 will more than pay your way – and you'll get the posthumous annual benefit of your own carnival, the Day of the Dead.
That's maybe not quite what the phrase "See Naples and die" actually meant (though Italians are relatively parsimonious with an average funeral cost of around 6,000 euros). And you wouldn't pick your retirement or holiday home based on the cost of funerals in the country, now would you?
Rising costs before you pop you clogs: the health insurance issue
Perhaps more to the point, though, is that as we get older, we do get a bit more clunky and need more maintenance. So thinking about healthcare costs – and more generally about the quality and accessibility of healthcare – is an important part of the equation.
In most places outside the EU, you'll need private health insurance for access to healthcare. But that can vary significantly in cost from country to country. You probably won't be surprised to hear that the most expensive by far is the USA, where you'll need to set aside an average of $21,119 for insurance. Canada is also pretty expensive for private health insurance – though if you're planning to retire there full-time (or at least for over half the year) you'll be able to access public healthcare after your first three months of residence. The same is true of New Zealand and Australia.
Source: Pacific Prime report on healthcare costs, 2017: one male retiree
What might surprise you, though, is the next three in the list. Hong Kong and Singapore have excellent health services but you'll have to pay for them – and how! – while China makes the third of this Asian triad. (Japan comes quite a lot further down the list with a more manageable $9,270 insurance cost.)
Advice for UK citizens faced with costs in later life
Of course, if you're retiring within Europe or just spending some of your time at an EU holiday home, you'll be covered by your National Insurance payments – using either the S1 form or the EHIC card, depending on your circumstances. Watch out though for gaps in coverage – for instance the EHIC card will only pay for 70-80% of your bills in France, so it's worth taking out travel insurance or complementary health insurance for the remainder. And obviously, you're going to have to keep a close eye on what gets agreed on health coverage for British expatriates during the Brexit negotiations.
You should also remember that if you emigrate, you'll lose your entitlement to free healthcare in the UK. And should you come back to London and get run over by a bright red bus, intensive care can now rack up bills of £1,800 a day – so you'll want some decent health or travel insurance.
You may also want a convenient way of defraying your medical bills while abroad – Caxton's international payments service comes with a clean bill of health! Even better, there are no transfer fees or hidden charges, either online or using the phone.